April is Sexual Assault Awareness Month
Sexual Assault Awareness Month is an annual national spotlight on the issue of sexual violence and programs which support survivors and loved ones. RESTORE since 2014 has hosted a region-wide 'SAAM' campaign to raise awareness about how sexual violence impacts the communities we serve, and the places folks can turn to for help. Using multiple different components, RESTORE engages with a variety of audiences throughout the month via social media, displays of statistics, special events, and boxes to collect words of support for survivors.  RESTORE uses direction from the national 'SAAM' campaign out of the National Sexual Violence Resource Center as well as in-house ideas and events.
Each of the five counties that RESTORE serves (Monroe, Genesee, Orleans, Wyoming and Livingston) host displays of hundreds of small orange plastic flags during April. While some displays travel across the campuses of the colleges RESTORE partners with, others are hosted by town governments, churches and other agencies. 
Currently, statistics from RAINN show that someone is sexually assaulted in the United States once every 73 seconds; that's 1,183 assaults every day. Symbolically, each display features 1,183 flags. Each display also has informational signage and displays RESTORE's 24-hour hotline.  
In 2019, the displays featured 720 flags, representing the statistic that "every two minutes, someone in the United States is sexually assaulted; that's 720 every day." This year, more than 460 flags have been added— not because more violence is occurring, but because more survivors are aware of where they can get help and support.  
RESTORE's flag awareness displays have been duplicated across the region and covered in the national publication The Resource, published by the National Sexual Violence Resource Center.  
While many want to demonstrate support for those impacted by sexual violence, they might not know how. Still others may want to speak out, but fear retaliation, shame or feel unsafe doing so.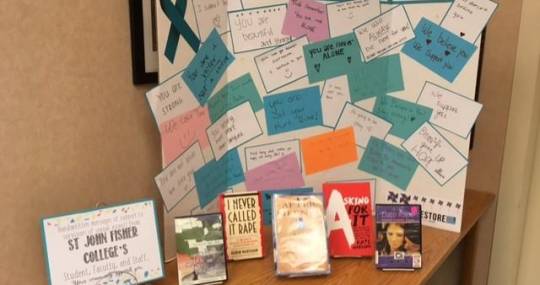 Enter the Mailboxes of Hope: a place to share words of support, hope, encouragement and solidarity with survivors of sexual violence. The mailboxes are hosted by area libraries, well-recognized community resources for peaceful respite and information, and other supportive agencies.  
Submissions are collected anonymously in the box, and RESTORE information is available for anyone looking for more information or help. The Letters of Hope are collected and then displayed at the respective site for viewing, with the message, "Messages to survivors of sexual violence from patrons and staff at this place: Your community supports you." 
While Sexual Assault Awareness Month occurs during April, RESTORE works all year round to raise awareness for communities and survivors. We are constantly adapting, expanding and further customizing our awareness campaigns to involve as many people as possible to make aware not only of the problem of sexual violence, but effective prevention and supportive response efforts.
Virtual Take Action Night: The Forensic Rape Exam in Media and Beyond
Tuesday, April 19, 7pm
The SANE exam. The FRE. The Kit. Whatever you call it, the post-sexual assault medical exam often goes hand-in-hand with discussions about sexual assault, whether in movies, shows or in print. But how accurate are these depictions of the medical exam? And what, exactly, happens to them when they are through? 
Join RESTORE Advocate Julia DeLuca and Nancy Harris, NP and VP of Nursing with TeleSAFE, as they review different portrayals of the Forensic Rape Exam in different pieces of media, including Unbelievable, Grey's Anatomy, and Law and Order. They will discuss just what the FRE is, what it does and does not do, and which clips are accurate and which miss their mark.
Afterward, attendees will learn how they can advocate for and support survivors of sexual violence.
What Were They Wearing?
"What Were They Wearing?" is a survivor art installation which began at the University of Arkansas in 2014 and has been duplicated around the world. The installation challenges rape myths and provides an opportunity for participants to understand that an act of sexual assault has nothing to do with what someone was wearing, or not wearing. The installation showcases multiple outfits that have been recreated based on the stories of actual survivors.
Denim Day
Peace Over Violence has run its Denim Day campaign for 21 years in honor of Sexual Assault Awareness Month. The campaign began after a ruling by the Italian Supreme Court where a rape conviction was overturned because the justices thought that the survivor must have helped the person who raped her remove her tight denim jeans, implying consent. The following day, women in the Italian Parliament came to work wearing jeans in solidarity with the victim. Since then, wearing jeans on Denim Day has become a protest symbol against misinformed and destructive attitudes about sexual harassment, abuse, assault and rape.
Denim Day 2022 is April 27.
Clothesline
The Clothesline Project began in Massachusetts in 1990 as an art display of t-shirts and clothing items decorated to honor and support the experiences of those impacted by sexual violence. Survivors and loved ones write messages on clothing which is hung on a line as a display for awareness, support and to call attention to resources for survivors.  
Rape, Abuse, Incest National Network
National Sexual Violence Resource Center / National SAAM Campaign
Facebook, Twitter
@restoreSAS